If you have a Lincraft near you, it might be worth popping in to see what you can find, fabric is on sale for 50% off, and most yarns for 33% off.
I picked up some fabric sew on patches for the knees of my 4 year old's jeans. I have sewn a few of these on lately and those lil suckers are expensive, so I grabbed a few that were at a discount.


I also bought a few balls of discounted wool for making pompoms.....gee, I'd forgotten how much time goes into making a pompom! Most of it

my

time, I've discovered, the mechanics of it....and the length of time it takes....are just a tad beyond H's 4 year old abilities.

Oh, and more sidewalk chalk, that is a must have.
It was paraded out this afternoon to decorate the driveway in the form of an army base...

Chalk is so cheap and versatile,

you can draw with it...


You can get really grubby with it...



Or you can dump it out and use the chalk bucket as a hat.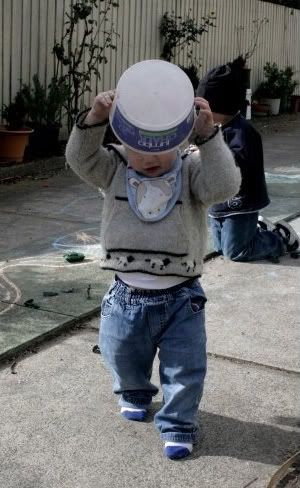 Only you can decide what's right for you...