Tortillas are one of those things I used to buy and keep in the cupboard until needed. That should have been warning enough, and after reading the ingredients list I can see why they keep so well.......they are barely a food at all. Well, slight exaggeration perhaps but here is what is in the ones I used to buy:
Wheat flour
Water
Vegetable oil
Humectant
Salt
Emulsifiers
Raising agents
Dextrose
Preservatives
Colour
Food acid
Flour treatment agent
Antioxidants
And this is what is in the ones I made last night:
Tortillas
320grams plain flour
1 teaspoon salt
3 tablespoons olive oil
1 teaspoon baking powder
180 grams/mls warm water
Much better for you surely, without all the extras in the list above.
And they taste sooooo good, they are well worth the little bit of fiddle it takes to roll them out.


Ok, here's how to:
Mix all ingredients in a bowl, turn out and knead for 10 minutes.
Thermomixers: throw it all in the TM bowl, mix for 10 secs to combine, then knead for 3 minutes.
Rest the dough for 5 - 10 minutes.
Divide dough into 12 pieces
Roll each piece flat into rounds, or any odd shape, as long as it's as thin as you can get it.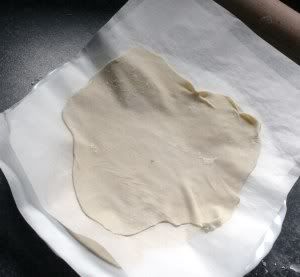 Fry in a hot frypan until the upper surface starts to pucker and puff a bit.
Flip over, cook briefly on other side.
You'll be able to tell when they're done by sight, and they should cook pretty fast.
If not, turn your pan up a wee bit.
I use a scanpan, which is non-stick, so I oil it up at the start and that's it.

Once cooked, I put a teatowel inside a large ziplock type bag and lay each tortilla as it is cooked onto the teatowel in a pile. I then seal the bag while the next one's cooking. This method keeps them soft and flexible.

Do try these, you won't regret it, the taste is fantastic, there is no throw-away plastic packaging, they're cheaper than store bought and my recurring theme, you know exactly what's in them.