I thought this was a lovely idea, a use for all those toilet roll tubes that you save but are not allowed to donate to pre-schools any more.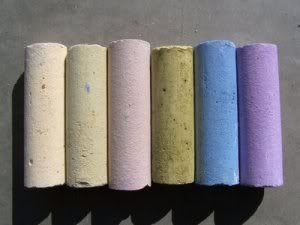 We go through quite a bit of chalk, the kids love decorating the driveway with all manner of creations and the younger one still enjoys chewing it, heaven only knows why. The only thing I need to do before I embark on this project is find out if plaster of paris is safe for chewing. If not, it will a four year old only activity, I know he's going to enjoy actually making the stuff, any excuse to get filthy...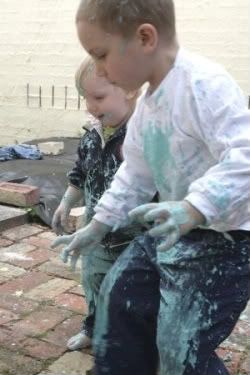 See what I mean? This particular photo will come up again soon as a "how not to....." tutorial. We all have to make mistakes, right? Hahaha, it was funny though....I digress, back to the topic in hand:

Here it is,
How to make sidewalk chalk, at Mad Maggie Designs.
Reading through the comments, it could be fun to try out some other odd shaped molds, and be sure to use
tempera
paint.
Also a good idea for a homemade gift, I know my boys would enjoy some personalized chalk. Especially if it has flavouring added, ha!