Another email that popped up in my inbox a couple of days ago is from Borders, the book store chain. Within the email is a link to a 30% off coupon, which can be used on one full priced book and is
valid for 3 days. 30% off is not too bad a deal, it's more the 1/4 of the price, right?
To receive these and other email offers from Borders, you need to be signed up to receive the Shortlist Email Newsletter. I signed up in store a while ago, and I sometimes hear the Border's staff (if I am there) asking a customer at the desk if they want to sign up, so presumably all staff will know what you're on about if you ask them about the email shortlist newsletter. You can also sign up online through their website.
Ok. I've also received offers in the past for a discount on buying multiple items (2 or 3), sometimes pertaining to dvds or cds, and some other decent offers that escape me right now.
The best offer I've used was last Christmas, when there was a coupon for 25 or 30% off a full priced book (I forget which) and reading the small print on the coupon there was no limit on how many per customer, just one
book
per
coupon.
So I printed off a few copies of the coupon and took them up to the desk to ask if I could use copies. I was told as there was no limit printed on the coupon, yes I could use as many copies as I wanted, just in separate transactions. Yay! That worked well for a book exchange kids Christmas party, books for my kids Christmas stockings and books for posting to a couple of my older relatives.
Now, they may have corrected that no limit per customer coupon......or not, I haven't needed to take them up on a similar offer yet. Even if it is one per customer, to me that's a decent saving and worth looking down my "people I need to buy gifts for in the near future"
list.

The emails come periodically although I can't tell you exactly how often, and look something like this...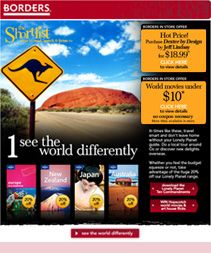 This is worth signing up to, in your efforts to become thrifty and frugal....although there are other ways of getting hold of books cheaper especially if they're second hand, but it is nice to be able to give the odd new one when you want to.