Ok, so what did I come up with at the market? Well, as I said it was quieter than usual so I got to have a good poke around. There is soooo much girls stuff though and much less boys, let alone older boys, as I know from experience they start to wear their clothes out at this age.
Anyway, here we go...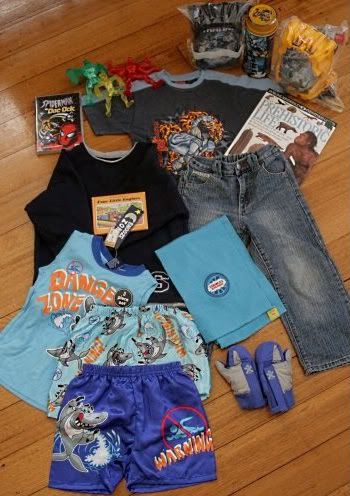 A 3 piece summer jammies set, new with labels.
Some waterproof mittens for our upcoming snow trip.
A thick pumpkin patch jumper.
Pair of jeans, yay! (hard to come by in size 5)
Cute t-shirt.
Cartoon spiderman dvd.
Ben 10 figures - think they're McD's ones, but as we never go there, they're new to my Ben 10 obsessed boy.
2 x complete bionicles.
1 complete lego knight kit.
Book on prehistoric life.
An ancient Thomas book.
Thomas scarf.

I tend to only look for clothes for my older one, as the bub has loads of hand-me-downs coming from his big brother. The lego and bionicles I'll keep for Christmas, as I know he's really into both of those. Maybe the dvd for a stocking filler.
The clothes are all a size or two up, so will be stashed for next year, and the mittens are for the bub.


So if a market is on near you, it's well worth going. Especially if you have some little girls to clothe or baby is on it's way, lots of baby items there.

Right, where's the next one? I think I have a slight addiction to them...!