Do you need some creative activities for you and the kiddies? Want to get your young ones out from in front of the tv? Here is one person's collection of free and cheap ideas to keep your kids entertained without breaking the bank. Sometimes you just need to be reminded of what you

can

do.

One of

my

favourite activities is sidewalk chalk.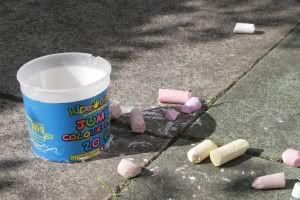 Take it out on the driveway - create a base for soldiers, draw an underwater scene - sharks, whales, octopus, starfish, draw outlines of the kids and fill them in, draw a garden, create a story with a series of pictures....the possibilities are endless. You can even feed it to them, well, my one year old walks round with a chunk of it in his mouth at every opportunity....